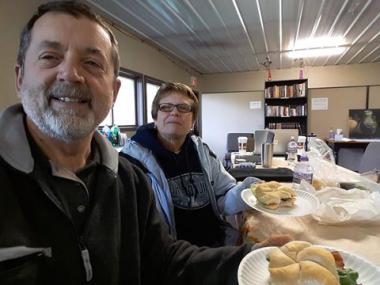 Debbie and I are enjoying some time off to write in one of our favorite spots Cable, Wi. Below is a brief update of what we've been doing.
Today we got up & ready for our 8 AM conference call. I went out to start the car, the windshield was covered with deep frost and the car would not start. We were headed about 9 miles north of the cottage to The Oaks – a church in Drummond, WI. We found the church a few years ago while sitting in a gas station on the last leg of a 40+ tandem ride. We were downing a sports drink and saw the building – we had seen it in previous years but now it had a cross on it. I looked the place up online and the next summer when visiting the area we were out on a Sunday Breakfast ride on the tandem and stopped by for church – it was a hot morning and we were drenched with sweat from our 30+ mile ride, but they brought us right in and after church we joined them for their monthly pot luck lunch.
Pastor Chad lives in Ashland, has a thriving business doing online background checks for various companies and had a heart for starting a church here. He has little formal teaching but really has a message to present every time we have been here. He told me that he has the dry heaves virtually every week before he preaches – but he feels called to do it. He has been hoping to figure out how to become full time as pastor here. We have kept in touch and I preached here when visiting the summer before last.
The church has good wifi and both our computers and phones work here – in most of the area around here we have no cell service. We arranged with the church to use a room and "borrow" some wifi for our conference calls this week. The church has a new full time pastor now – his name is Brian. He has lots of cool tattoos, is a former drug addict and spent more than half of his life in jail and is still on probation. Brian had a conversion to Christ a few years ago and when he got out of jail he got involved in the church that had helped him. The church sent him along with his wife to a marriage seminar and worked with them to put their lives back together. Just 2 weeks before their divorce was to be final his wife called it off and now they are raising their kids and working in the church and community. Mrs. Brian has a similar background to her husband. Both of them are certified drug and addictions counselors and have started a counseling ministry to addicts in this area. Oh yeah, Brian also has a really cool Harley!
Pastor Chad is still here and still does some of the preaching, but now has his answer to becoming full time with the church. He is very excited about how things have worked out! He prayed about and bugged Brian for quite a while to come here and serve the church. This small church can't afford to cover the income for Brian, but other churches in the area are helping to make it happen.
We are staying in Cable, Wi in a small one bedroom cottage that is perfect for us. No cell, no wifi and no tv. If you love the outdoors and don't mind being unplugged for a while, this is the place to be. Great roads to ride on, winding up and down and around through the woods. Hundreds of miles of fabulous mountain bike trails, tons of lakes and great people in the area. We are grateful to our trainer = Coach Tom for being able to rent his place each year for our annual visit.
So, the car won't start – time to switch to plan B. We grabbed our backpacks and walked up to the laundry mat to use the wifi there for our conference call. The wifi is not as good, our phones don't work on it most off the time, but we have skype and could use it on and off as the internet cuts in and out. Just 40 feet from the laundry mat at 7:40 AM a pickup truck pulls up, the window went down and Gary – the director of the Chequamegon Mountain Bike race says hi – we have gotten to know him through the race and by visiting here before. "Hi Gary, can you give us a jump this morning, the car won't start." Gary said he could as soon as he unloaded the bundles of thousands of race newsletters he had in the back. We helped him unload, he jumped our car and we arrived about 15 minutes late for our call, but got most of it in. We have spent the last 4 hours working on writing assignments from the 8:15 AM meeting today. Mrs. Brian had a couple of counseling sessions with addicts in the next room. Brian left and had a meeting with the county sheriff to work on setting up a jail ministry, he met with the sheriff from the adjoining county yesterday and both ministries are a go.
Brian came back around noon and told us he had a call from a church member who manages a bar/restaurant across the street. She wanted to give him lunch & he told her about us. She provided all the fixings for some delicious BLT sandwiches. The picture is us eating with our computers in the background. Got to run – it is time for our afternoon conference call. The sun is trying to come out and we will back on the bike within the hour!