Marriage is one of the most important steps a couple can take.  Your wedding will be one of the biggest days of your life.  You and your future spouse are unique- why shouldn't your ceremony be the same?  Our pastors have found the more engaged the couple is in creating the ceremony the more meaningful and memorable it becomes.  Our pastors will meet with you ahead of your wedding and work with you to personalize your ceremony.  We know how important this day is and will work with you to ensure you have the wedding of your dreams and create a meaningful lasting memory.
What to expect
Most wedding ceremonies we officiate typically last 20 to 30 minutes.  Among the variables that impact the length of the service are: the number of attendants, the number and length of readings, the addition of songs during the ceremony, and any special elements you would like added to the ceremony.
Most wedding ceremonies we officiate have similar elements, but those elements are customized to fit the needs and desires of the couple getting married.  We put a great deal of effort into planning a wedding ceremony that is unique to each couple being married.
Consultation
Once you have completed our contact form, we will contact you within 24 hours to discuss any further details and to set up a time to meet via your preferred method.  We will need a full 90 minutes to meet with both of you to discuss in detail your wedding ceremony. We prefer to meet in person, but alternate arrangements can be made.
Our consultation gives you a chance to meet your officiant and to decide if this is a good fit for you.  It also allows us to get to know you and to ask you several questions that help us to put together a very unique wedding ceremony that sets your wedding ceremony apart.  It is very important that both of you attend this initial meeting.  In order to plan a wedding ceremony that is unique to you as a couple, we need to be able interview both of you. It is not necessary to bring anyone else to this meeting and most couples do not, however, occasionally a couple has brought someone with them who is integral to the planning of their wedding ceremony.  Remember, it is your wedding ceremony, not anyone else's.  Our goal is to deliver a ceremony that has meaning to you! In this meeting, we will complete a worksheet that will allow you to choose the parts of your service that you like.  After the meeting, we will email you several options on some parts of the service, such as the "vows" and "exchange of rings" portions of the ceremony so that you can choose the ones that fit your relationship best.  You will also have the option of writing your own vows and exchange of rings or choosing another one of your preferences.  Yes!  Someone who has musical talent can perform before, after, or even during the actual wedding ceremony.  There are also many meaningful readings that can be presented by a friend or member of the family.  By the time you have completed the initial 90-minute consultation; you will know all of the parts that will be included in your ceremony.
We can meet as many times as you need.  For most couples the 90-minute consultation to plan their wedding ceremony, plus a few phone calls, and email/text exchanges is sufficient.
We highly recommend you attend pre-marital counseling. Some of our pastors on staff do require at least 1 session.
Cost
Please contact us for rates. Should you decide we are the right match for you we require a non-refundable $100 deposit to be paid at the consultation. If there is a cancelation of services the deposit will be kept and any other payments will be refunded, unless the cancelation is fewer than 7 days prior to the ceremony. We will expect the final payment to be made within 48 hours of the ceremony. All payments are to be made to Final Word Connection. We accept checks, all major credit cards, or PayPal payments.
Pastor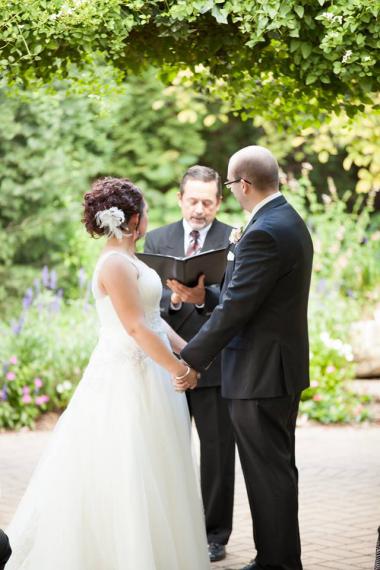 Congratulations on your upcoming wedding.  I hope that your wedding day is everything you have dreamed it could be.  My wife and I were marriage over 40 years ago during a blizzard in the middle of December and have a great marriage.  I am a strong believer in marriage and I work hard with every couple that hires me to ensure that I deliver a unique wedding ceremony that fits for the the two of you.
A wedding ceremony is both a serious event and a celebration of life and love.  It is important to weave all of those elements and more into the ceremony. I like to help couples explore every aspect of their ceremony and design it to fit their wishes for the day.
Please feel free to reach out to me with any questions you have or for more input as you continue your planning.  Wedding planning is hard work and I wish you the best as you continue with your plans.
KIND WORDS FROM MY LOVELY CLIENTS
"Absolutely amazing! I would recommend David to anyone getting married! He made the ceremony feel so personalized. My guests thought that he was a family friend because he was so outgoing and casual with us, yet professional. He is a man with many wise words. I don't have one negative comment about him. Definitely worth every penny!"
"Dr. David McFadden did a great job on our wedding. He made the serious parts as serious as they should be but kept the other parts light hearted and put everyone at ease. We are especially honored that he took time out of his 4th of July holiday to perform our ceremony. Highly recommended!!!! Thank you again!!"
"My husband and I, couldn't be happier by having Dr. David McFadden marry us. Everyone complemented on our ceremony how beautiful it was. He added elements to the ceremony that made it special. Absolutely amazing experience."