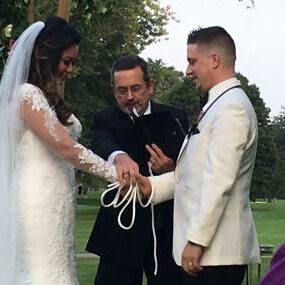 Do you travel to the venue we are using for our wedding?
Yes, I do. Dr. David travels throughout the NW suburbs and beyond for wedding ceremonies and rehearsals. He performs weddings in banquet halls, restaurants, hotels, country clubs, golf courses, parks, homes, and backyards. He does not charge a travel fee for weddings or rehearsals.
Does our ceremony need to be religious or traditional?
Dr. McFadden often tells couples, "This is your wedding, not mine, and we will design a wedding ceremony that fits the two of you." Your wedding ceremony can be as religious (or not) or traditional (or not) as you want it to be. Your ceremony should fit your life and your values, traditions, and dreams. It is YOUR wedding, so it should represent you well.
What qualifies you to do wedding ceremonies?
Dr. McFadden was ordained to the ministry in 1973. He was a full-time pastor in a non-denominational church for 25 years. Plus his father and grandfather spent their careers as full-time pastors. He has a Bachelor's Degree in Christian Ministry from Lincoln Christian University, a Master's Degree, and a Doctor of Ministry Degree both in Pastoral Counseling from California Graduate School of Theology and a Master's Degree in Marriage and Family Therapy. He meets the requirements to legally officiate a wedding ceremony.
Do you provide premarital counseling?
Dr. McFadden worked for 20+ years as a full-time Marriage and Family Therapist. He developed a premarital counseling program using the Taylor Johnson Temperament Analysis and the FOCCUS Pre-Marriage Inventory and has found these tools both helpful in preparing couples for marriage. A number of churches and officiants have referred couples to Dr. McFadden for this unique pre-marital counseling plan, and parents or grandparents often pay for the course of sessions as a gift to the couple. The cost for the 5 planned sessions is $750. Contact Dr. McFadden to schedule this helpful program before your wedding day.
Where do we get a marriage license?
Dr. McFadden tells every couple he meets with that, "It is your job to get your marriage license, and it my job to complete it and mail it." Every county in Illinois has a different style of marriage license. Look up the County Clerk's office online for the county where you will be MARRIED. The license needs to come from that county. Follow the link for Marriage License, and it will tell you the requirements. Usually you can get the license up to 60 days before the wedding and no later than 1 day before the wedding. Dr. McFadden prefers to get the license from you at the rehearsal. He will complete the license; and before mailing it, will send you a scanned copy so that you know it has been sent.
Do we have any choices in what you wear for our ceremony?
Yes. Dr. McFadden typically wears a black suit for 90% of the weddings he conducts, but he can also wear a clerical collar if that is preferred. He also has an assortment of clerical robes if that is more fitting for your wedding.
Will you be involved in our wedding rehearsal if we need one?
Yes, most of the time a rehearsal is a good idea. Dr. McFadden personally leads the rehearsal over 98% of the time. Dr. McFadden tells every couple that, "typically a rehearsal is very chaotic at the start because everyone is excited to see each other, and they want to talk. Usually, someone is late because of traffic."
Once a rehearsal starts, it should take 30 – 45 minutes to complete. The rehearsal allows everyone a chance to run through the paces and understand where they are supposed to be and the time they are to arrive for the wedding. Rehearsals often take place in the same venue as the wedding, but occasionally the venue is busy and an offsite place is chosen.
Are you married?
Yes, not only am I married but happily married! Dr. David and Dr. Debbie McFadden have been married for over 40 years; have 4 married children and 13 grandchildren. Dr. McFadden often tells couples, "I have a lot of enthusiasm and passion for marriage because we have such a good marriage. We are not geniuses in how to have a marriage. We are a good match; however, over the years we have given our marriage the attention it needs to stay strong.
The McFadden's are avid cyclists. Dr. McFadden gave Debbie a 10-speed bike as an engagement gift . . . oh yeah, he also gave her a ring. Since purchasing a tandem bike on their 25th wedding anniversary; they have put over 40,000 miles on that bike alone, often taking week-long trips over 400 miles long on the bike. They love canoeing, kayaking, hiking, cross-country skiing, and biking.
Are you a REAL minister/pastor?
Yes. Dr. McFadden was a full-time pastor for 25+ years. He and his wife are active in West Ridge Community Church in Elgin and also in The Oaks Community Church in Drummond, Wisconsin near their home in Cable, WI. He speaks for church services many times a year; and as a couple, he and his wife present numerous marriage seminars annually.
Is it customary to invite you to our wedding reception or rehearsal dinner?
No, you have no obligation to invite Dr. McFadden to attend either one. Dr. McFadden is open to attending your reception and offering a blessing for the meal, but his schedule rarely permits it. He often has more than one wedding on the same day or may have a wedding and a rehearsal to attend. In addition with 23 birthdays for his immediate family, as well as nieces, nephews, kids' ballgames, etc.; he works at keeping a balance on his weekends between work, play, and family.
How should we refer to you; what do we call you?
He prefers to be called Dr. McFadden or David. You will find that he is a pretty regular guy who likes and relates well to people and has a great sense of humor.
Do we need to tip you?
While a tip is always appreciated, it is not required or expected.
Will you marry us if we come from different backgrounds or faiths?
Yes. Most of the couples Dr. McFadden marries are not actively involved in a church, synagogue, or house of worship or they would likely be married there. He has married people from many different religious, cultural, and national backgrounds. He works hard to bring elements into the wedding ceremony that fit where people come from.
How do you make our wedding ceremony unique and fun?
Dr. McFadden explains to every couple he works with that, "A wedding ceremony is both serious, fun and a celebration. All of those elements should be present. I have a unique ability to be serious with the serious parts of a ceremony, to bring in humor and to have some fun as well. "
One of the things Dr. McFadden loves most about helping couples plan their ceremony is that it allows for creativity. He is always looking for new, creative and meaningful elements to include in his weddings. He will tell you, "it is your wedding, so we can do whatever it is that helps tell your story and makes it unique for you as a couple."
Dr. McFadden has a portion of the ceremony he calls "A Unique Relationship," and that is when both his serious and his fun side shine through as he tells your story and challenges you to live up to the commitment you are making.
What have couples said about the work you did for them?
Dr. McFadden receives outstanding reviews for all of the weddings he has conducted. You can read some of them on the following sites:
https://www.weddingwire.com/reviews/final-word-connection-bartlett/901eff8ddbd8839e.html
https://www.theknot.com/marketplace/dr-david-mcfadden-final-word-connection-bartlett-il-850173
https://www.thumbtack.com/il/bartlett/wedding-services/wedding-officiant-counseling-services-more
You will also see reviews on this site. (Link it to the page of reviews).
How does your process work; what do we do next?
If you want to learn more and decide whether Dr. McFadden is a good fit for you, schedule a consultation with him. Plan for 30 or so minutes . . . more if you need it. You can meet at one of his offices (Bloomingdale near Gary and Army Trail) (South Elgin near Randall and McDonald Roads) or talk by phone or online video.
Once you have made the decision to work with Dr. McFadden, you will arrange a time to meet (either in person, by phone, or online video) and go through his unique worksheet. In this session, he will talk you through every aspect of the ceremony so that you are acquainted with all of the parts and why they are included. You do not have to have all the answers regarding your ceremony, nor do you need to do any preparation. This session will explain the ceremony and raise questions for you to think through.
Dr. McFadden will send you several documents with a number of options for you to choose from for different aspects of the ceremony. You can have as little or as much involvement in the actual script for your ceremony as you want.
Do you have any of your own equipment if needed?
Yes, Dr. McFadden has a small portable PA system with one speaker and two wireless microphones. Most of the time the DJ or the Venue handles the sound system, but occasionally there is a snafu and this system comes in handy. He also has a portable microphone stand and a music stand for readers to use if needed.
How do we pay you?
Dr. McFadden accepts payment by check, PayPal or credit card.