There are a lot of good wedding officiants across the Chicago area, and we know several of them. We believe that Dr. McFadden is one of the best for several reasons including his:
Passion for marriage.
"Presence" in the ceremony.
Deep "radio personality" voice.
Voice projection.
Enthusiasm and voice inflection he exhibits when speaking.
Ability to connect with the couple getting married during the ceremony.
Connecting to the guests during the ceremony.
Timing when speaking.
"Go with the flow" when something unexpected happens.
Sense of humor which shows up at the right time.
Nature to "not take no for an answer." He knows that whatever the challenge, there is a way to successfully work through it.
Desire to deliver the ceremony that you want.
Extra set of tools in his van in the event of a problem (portable PA system etc).
Attention to detail for every aspect of the ceremony.
Outgoing nature that allows him to connect with family members and the wedding party.
Skill to read people and know when the Bride or Groom need special attention or guidance.
Seriousness in the way he approaches this job.
Willingness to adapt his schedule to fit people's needs.
Thoroughness in making sure EVERYTHING is in place before the ceremony begins.
Capability to problem solve quickly if a problem occurs.
Desire to do his best for every wedding ceremony he conducts.
Creative thinking when helping design each wedding ceremony.
Helping each couple have a unique and meaningful ceremony.
Preparation for your particular ceremony and the various options he builds into it for each couple.
Way of avoiding the "cookie cutter" approach for a ceremony.
Dr. McFadden frequently shares his experience from a couple of years ago where he met with two younger couples in the same week to introduce himself. Both couples had attended 6 or more weddings in recent years, and they found the officiants either boring or excessively dramatic.
Furthermore, Dr. McFadden emphasizes that he is not a dramatic person and does not want to be remembered as the officiant who wasted people's time. He believes that he connects well with people and focuses on the couple getting married while also engaging with the guests about their marriages.
Not to mention, Dr. McFadden's ceremonies consistently receive high praise from guests, who consider them the best they have ever attended. This is because Dr. McFadden customizes each ceremony to suit the couple's preferences and injects enthusiasm and passion into his delivery.
To discuss your ceremony needs with Dr. McFadden, please use the contact form to schedule a meeting.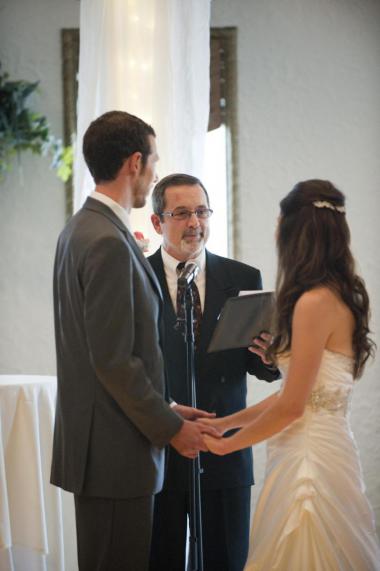 Testimonials
Dr. McFadden did an excellent job officiating our wedding and was a pleasure to work with. We had our ceremony at The Herrington Inn in Geneva, IL. From our very first session with him, he put us at ease with his personable demeanor and warm personality. He was also extremely accommodating and adjusted his schedule to meet our needs. He went above and beyond to help the process go smoothly for us as we were planning our wedding from out-of-state in California.
Dr. McFadden used our personal stories and transformed them into a profound and eloquent wedding script which was highly praised by many of our attendees. In fact, one of our good friends actually asked for a transcript so that he could use it for his upcoming wedding. But more than just the words, Dr. McFadden officiated the ceremony flawlessly and his delivery blended both humor and emotion which struck the perfect tone and was exactly what we were hoping for. He also was very proactive and punctual in taking care of all of the necessary paperwork.
But beyond the ceremony, we consider Dr. McFadden a friend and a trusted confidant who has helped us strengthen our relationship as we begin our marriage together. We look forward to staying in touch with him and strongly recommend him to anyone who is looking for a wedding officiant and/or marriage counselor.  
Laura R
We had the best wedding experience with Dr.McFadden! Not only was he very accommodating but he was emotionally checked in with us during the ceremony and several guests said that he was one of the best wedding officiants they have ever saw. He truly made our day perfect!! Don't hesitate to hire him... Just do it and you will be pleased.. We promise! Thank you again Dr. McFadden!
Amanda K
Dr. David McFadden was fantastic. He was able to step in last minute when our original officiant was hospitalized. He was able to work with our previous ceremony layouts that we worked through. He was prompt and handled everything from getting to know us, rehearsal and a beautiful ceremony. I would highly recommend him for your wedding. He truly does what you want.
Thanks so much David.
We hired Dr. McFadden as our officiant for our wedding ceremony. He was great, we met with him once before our wedding and were both in agreement immediately that we wanted him to be our officiant. He provided us with material to use and look over to help plan out our ceremony. The ceremony went so smoothly and he was very helpful in keeping our nerves calm before and during the ceremony.
Alex R
We cannot thank Dr. McFadden enough! He was professional, elegant and delivered an amazing ceremony! Our friends and family were raving about him all night! If you need an officiant, he's definitely your man!
Michelle H