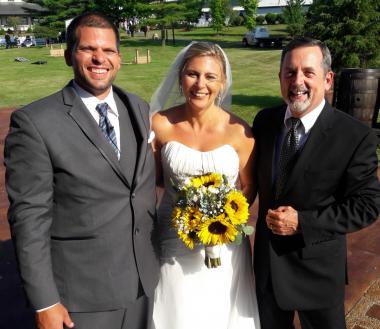 Sarah and Mike invited me to be involved in their wedding ceremony at Kuipers Farm in
Maple Park on Friday the 13th of July. I had a great time officiating their ceremony and
they were fun to work with. Kuipers Farm is a great setting for an outdoor wedding and
they have a fun train ride that the wedding party and guests can take after the
ceremony.
Sarah and Mike use the Unity Cross for their Unity Ceremony. They got the cross
online and it was a nice addition to the wedding. There is a base for the cross with a
small drawer in it for them to store a love note to each other. The main cross in put in
the base by the groom and represents his leadership and protection of the bride. The
bride then has an ornate cross that is placed inside the larger cross that represents her
beauty and the many capabilities of women. The crosses are held together by three
pegs placed by the couple which represent the trinity and the scripture stating that a
three stranded cord cannot be broken.