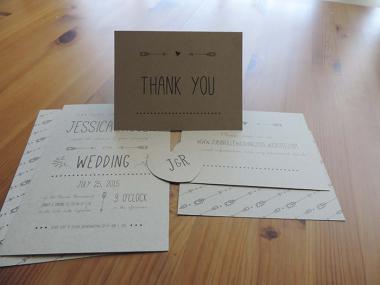 3 Tips for Deciding on Your Wedding Invitations
Choosing invitations for your special day can be both exhilarating and exhausting. There are so many choices – different styles, papers, printing methods, places to buy – that it's easy to get overwhelmed. This doesn't have to be a painful process though! Through my own personal wedding experience and my work with brides choosing their wedding invitations, I've come up with my top 3 tips to making the invitation process pain-free.
1. Consider your budget
Many brides painstakingly plan out their budget, allocating the necessary funds to all of the pre-wedding and wedding day items. If you're in the early stages of this process, trust me – it adds up fast. Luckily, with all of the choices for wedding invitations out there today, you will be able to find something that fits in your budget at just about any price point.
However, you have to manage your expectations. If your budget for 150 wedding invitations, envelopes, and RSVPs (which also need envelopes) is $200, you're not going to be able to afford letterpressed or foil stamped invitations. Some of the amazing invitations you see flooding Pinterest can cost you upward of $700 for the printing alone. It's important to keep your budget in mind so that you can manage your expectations when deciding what type of look you want to go for.
2. Choose a theme
You don't necessarily have to have a theme for your wedding, but if you choose a theme for your invitations it's a lot easier to narrow down all of the design options that are out there. When choosing a theme, ask yourself what you want your overall wedding atmosphere to be like. Do you want it to be laid back? Or are you looking for something more formal? What time of year is your wedding? These are all things you should consider when choosing a theme.
Another benefit of choosing a theme for your invitations is that it helps give guests an idea of what to expect on the wedding day. If you've chosen a low-key kraft invitation, it's likely that your wedding will also be low-key. Contrasting, if you have chosen an expensive letterpressed or foil stamped invitation with several inserts and a belly band, it's a signal to your guests that this will be a more formal affair.
3. Know the limitations of the paper/printing method you choose
Paper and printing methods can really dictate what an invitation looks like. For instance, some printers who print on foil will only do it single-sided. If you have your heart set on a cute backer for your invitation, this may be a problem. It's also more expensive to print using white ink on kraft paper through most printers. I've worked around this problem in particular with several brides by changing the ink to a darker color, or giving the option of printing on a white paper stock and using a kraft-colored background so that they're still able to have white text. Knowing the limitations of the paper or printing method you like will help you to make the best decision for your budget.
If you keep these three tips in mind while you're looking for your invitations, the process should go much more smoothly! My last bit of advice is to work with a designer directly. It's great to see all of the pre-made wedding designs available to be purchased at the click of a button, but if you work with a designer you're going to get something so much more personalized. I love working with brides on their wedding invitations, and would love to work with you! Contact me anytime at brittanyluizdesigns@gmail.com(link sends e-mail) or take a look at my Etsy shop at brittanyluizdesigns.etsy.com(link is external)